he University of Wroclaw has a rich history of more than three centuries. Founded by Leopold I Habsburg the university evolved from a modest school run by Jesuits into one of the biggest academic institutions in Poland. At the beginning of the 19th century the university had five Faculties: philosophy, catholic theology, evangelical theology, law and medicine. Later it was expanded by numerous sections, laboratories and a natural museum, which exists until today.
Since the beginning of the 20th century, the University of Wroclaw produced 9 Nobel Prize winners, such as Theodor Mommsen, Philipp Lenard, Eduard Buchner, Paul Ehrlich, Fritz Haber, Friedrich Bergius, Erwin Schrödinger, Otto Stern and Max Born.
Today, the first and foremost focus of The University of Wroclaw is scientific research. Our scholars have numerous links with their fellow researchers from other higher education institutions in Poland and throughout the world. The success of our researchers has been recently recognized by Polish authorities, who significantly increased funding for both equipment and research at our University by 80% compared to previous years.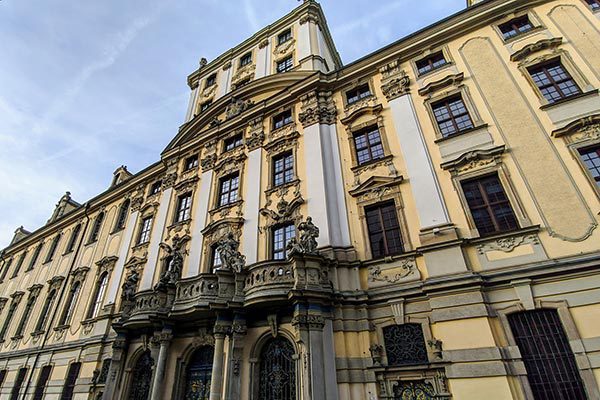 Like in most countries, in Poland the national quality assessment system is part of a national strategy for improving the quality of education. Every four years the Ministry of Education evaluates faculties of all Polish universities. Last year 9 out of 10 of our Faculties were qualified in the highest category and one was the second highest.
The Academic Incubator of Entrepreneurship is a new unit of the University of Wroclaw designed to aid students in starting their own businesses by providing free entrepreneurial advice, organizing conferences, seminars, subsidizing selected investments and offering office space. The Academic Incubator of Entrepreneurship cooperates with the Wroclaw Technology Park, a technological center with laboratories, office space, conference center and modern multimedia equipment. The objective of the Technology Park is to create conditions for the use of scientific and industrial potential of Wroclaw and the region and to stimulate the advanced technologies industry. The University of Wroclaw is proud to be one of its shareholders.
Today the University of Wroclaw is the largest university in the region and teaches over 26,000 students and around 1300 doctoral students at 10 Faculties. 9000 students graduate from the University every year.
Library
University Library is an all-University institution that – together with departmental libraries – organizes research and teaching environment for the academic community. Wroclaw University Library has three buildings: General Collections and Circulation Units are located in the building on Karola Szajnochy St. 7/9, Special Collections and its reading room are located on Św. Jadwigi St. 3/4, Cataloging Department, Computer Section and Server Room, the Director's Office, Administration and exhibition rooms, opened to the public, are located on Karola Szajnochy St. 10.
All three buildings are architectural landmarks. Two of them were used for library purposes before World War II. New library building (under construction) will be located at the Cardinal Stefan Wyszynski St. and Szczytnicka St. intersection; it will house all the collections and administration offices.
Wroclaw University Ranking
Faculty of Biological Sciences
The Faculty of Biological Sciences offers courses in biology and environmental protection in the Institutes of Zoology, Plant Biology, Genetics and Microbiology, Anthropology, Environmental Protection Study and Nature Study. A 200-year-old Botanical Garden and the Museum of Natural History are part of the Faculty. The Faculty employs 131 academics including 37 professors and doctors with habilitation. There are over 1300 students and 69 PhD students.
Faculty of Biotechnology
The Faculty of Biotechnology is organized into 12 departments and provides a comprehensive range of resources, skills and experience designed to develop knowledge and understanding of both the practice and theory of biotechnology and related areas of study. More than 40 Faculty members and 55 PhD students participate in an active research program, which receives funding from national and international sources.
Faculty of Chemistry
The Faculty of Chemistry provides the framework for chemistry research and teaching and offers a variety of undergraduate and post-graduate programs leading to MSc and PhD degrees. There are over 150 Faculty members and 1300 students and over 90 PhD students.
Faculty of Earth Sciences and Environmental Management
The Faculty of Earth Sciences and Environmental Management is one of the largest research and teaching centers in Poland dealing with earth sciences. It is organized into two institutes and offers a wide range of courses and research programs in many fields related to geology and geography. Over 110 young and highly qualified academic staff prepares more than 1,100 students for work in the sectors of natural resources processing, protection and utilization of groundwater, protection of rock environment, and mineral waste management.
Faculty of Historical and Pedagogical Sciences
The Faculty of History and Pedagogy is organized into seven institutes and offers full-time and part-time courses in areas of study including history, psychology, pedagogy, archaeology, culture, and anthropology. The Faculty has over 250 Faculty members and around 6400 students and over 260 PhD students in the areas of history, psychology and pedagogy.
Faculty of Law, Administration and Economics
The Faculty of Law, Administration and Economics is one of the largest in Poland. Its tradition dates back to the Prussian law school established in 1811. Over 12,000 students are taught at this Faculty by 200 scholars and 170 students are enrolled in PhD programs. The Faculty offers international exchange programs and is proud to host international students from Europe, Russia, Kazakhstan, and African countries. Students can become members of clubs and societies and participate in national and international conferences and symposia.
Faculty of Mathematics and Computer Science
The Faculty of Mathematics and Computer Sciences is organized in two institutes and employs an academic staff of more than 120. There are over 1500 students and 51 PhD students.
Faculty of Philology
The Faculty of Philology actively cooperates with science, education, and cultural institutions in Poland, and supports a variety of educational, research, and cultural incentives. 7,200 students may choose from a range of areas and graduate as teachers, translators, librarians, editors, reporters, journalists, press spokesmen, media experts, PR specialists, and information brokers. There are over 340 Faculty members and over 270 Ph.D. students.
Faculty of Physics and Astronomy
The Faculty of Physics and Astronomy is a dynamic and modern Faculty with many years of tradition. It comprises the Astronomical Institute, the Institute of Experimental Physics, and the Institute of Theoretical Physics. 122 Faculty members conduct a variety of research and teaching programs. It teaches around 700 students on Bachelor, Master programs and 49 on PhD programs. In recognition of the quality of teaching, the Faculty was twice awarded certificates by the University Accreditation Committee (in 2000 and 2005).
Faculty of Social Sciences
The Faculty of Social Sciences is one of the best in Poland, according to the Ministry of Higher Education. It is organized into five departments and runs undergraduate, graduate, and doctoral courses which lead to Ph.D., MA, and BA degrees. Around 6,000 students and 200 doctoral students are supervised by over 200 Faculty members.
PROGRAMS of Wroclaw University