21st century innovation in education incorporating the best of all worlds
Merging the Best of East and West
Since inception, the Limkokwing University of creative technology has been an innovative force in global education, and continuous to trigger change in the way the young are educated. Based in Kuala Lumpur with 30,000 students from 160 countries, the university offers internationally recognized diplomas, degrees and postgraduate programs.
From Europe and across Asia to Africa, Limkokwing University has made its mark with a new approach to education that appeals to the world's next generation. It's a generation hungry for an education that matches its lifestyle while building skills pivotal to career progress. Through its globalization initiatives, the university has strategically positioned its campuses in London, Beijing, Phnom Penh, Jakarta, Kuching, Gaborone, Maseru, and Mbabane to create a unique learning pathway spread across 3 continents.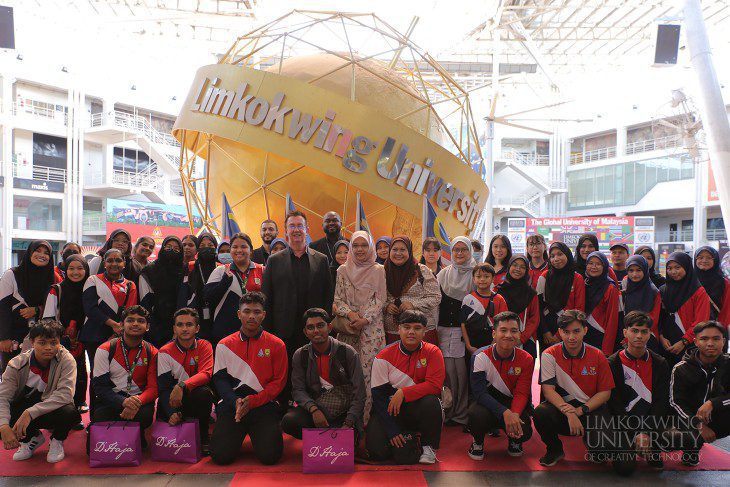 Global Perspectives
The world is flat, leveled by technological advancements and social shifts in global economics. Today's global environment requires leadership skills where multiple competencies are needed to effectively compete and thrive in a fast changing world. The 21st century demands a more skilled player who is adaptable throughout his/her career to changing technology, product demand and global competition, working alongside a lesser-skilled, services-oriented workforce.
Global Knowledge
The Limkokwing Best of both Worlds concept is anchored on providing a learning environment that not only brings the world into the classroom but also takes the student into the world. In response to the forces of globalization that has transformed the way industry, governments and societies are interacting; the University has created opportunities for the students to understand the unique ways of both sides of the world. This enables Limkokwing University students to understand what is needed to excel in a world that is flattened by new economic and social shifts.
Competitiveness
A global classroom is a revolutionary way of learning in several countries, enabling the globally focused graduate keen to tackle the challenges of a globalized marketplace en route to completing your degree. The Limkokwing global classroom is an experiential learning program that has always enabled many graduates to hone their skills through exposure to other cultures.
Global Graduate
To design the graduate to be that individual who can contribute meaningfully to society and industry the university has built its ecosystem to provide the experiences that sharpen skills and shape characters. The responsibility of education is to prepare the next generation that possesses the dexterity and agility to manage a world that is fast evolving. This requires creating opportunities for students to discover what lies latent within them. Limkokwing University has always done this through projects and special events that encourage participation so students are able to practice what has been taught to them in class. With the stiff competition from other students all over the world, this enables one be able to work with people from different cultures.
Global Transfers
The Limkokwing University has exclusive and unique arrangements that enable one to spend a semester or two in a number of select campuses located worldwide. Imagine spending a month in Barcelona then moving over for another month in London. You can actually consider spending 6 months in 6 countries. What an experience!
Global Awards
Limkokwing University focuses on creativity as a vital prerequisite for innovation to take root. Over the past 20 years the university has clearly sharpened students' ability to unlock the creativity of the world's next generation and manage their ideas from concept to market. The best testimonials to their outstanding ideas are the awards that they win constantly and consistently which has seen the university win more than 200 awards within 3 years.
Global Future
Limkokwing graduates are recognized as most in-demand employees because of their versatility, creativity, tech-skills and global attributes. As creative minds they research, explore experiment and examine all kinds of problems and social issues that affect communities. They incubate new ideas to create solutions that may work better.
Global Connectivity And Community
Limkokwing University continues to bridge the gap between classroom and industry by having key industry leaders speak to students. Minds, cultures, disciplines and communities become connected through industry talks and therefore students get to understand what is required to excel in a world that is influenced by new economic and social shifts.
PROGRAMS of Limkokwing University
Architecture & Built Environment
Architecture and the Built Environment faculty provide the first stage in obtaining professional qualifications in Construction Management, Urban planning & Design Architecture. The courses are dynamic and demanding, bringing a positive contribution to the shaping of the built environment and culture. The program offers highly respected lifetime careers that involve society.
HI-Income Built Environment Careers
Interior Architect, Furniture Designer, Retail Designer Visualizer, Exhibition Design, Event Manager, Public Space Planner, Commercial Space Planner, Set Designer, Residential Designer, Cad Designer, Information Designer, Project Management Consultant, Arbitrator For Interior Design, Transportation Planner, Consultant Planner, Urban Designer, Urban Planner, Urban Landscape Designer, Landscape Designer, Landscape Architect, Nursery Manager, Golf Court Designer, Theme Park Designer, Conceptualizer, Project Manager, Landscape Consultant, Construction Site Manager, Construction Manager, Site Supervisor, Project Manager, 3D Visualizer, Assistant Designer, Design Consultant, Graphic Designer, Architectural Assistant, Project Manager, Project Coordinator, Site Supervisor, Interior Designer, Interior Architect, Landscape Designer, Architectural Model Specialist Architecture, Theme Park Conceptual Architect, Architectural Assistant, Architectural Draftsman, Architectural Photographer.
Business Management & Globalization
Business Management & Globalization provides the first stage in obtaining with the rise of globalization today, organizations need confident leaders who are superb problem solvers and skilled analytical thinkers; these are the products of this program. This faculty offers globally recognized degrees specializing in various fields of business that will also equip you with concrete digital skills needed in the 21st-Century Business Environment.
HI-Income Business Careers
Planning Consultant, Purchaser, Banker, Business Manager, Office Administrator, Operation Management Executive, Office Administrator, Business Planning Consultant, International Business Consultant, International Public Relations Executive, Finance Analyst, Accountant, Financial Controller, Chartered Accountant, Environmental Agent, Civil Servant, Health & Policy Authority Current Affairs Executive, Diplomat, Administrative Officer, Copywriter, Marketing Manager, Media Buyer, Web Designer, Lecturer, Management Executive, Project Supervisor, Production Quality Executive, Inventory Manager, Control Manager, Quality Control Officer, Promotions Manager, Account Manager, Media Executive, Brand Manager, Marketing Executive, Market Researcher, Advertising Manager, Creative Team Director, Project Manager, Entrepreneur, Business Consultant, Office Administrator, Office Manager, Purchaser, Banker, Recruitment Manager, Operations Management Executive, Business Planning Consultant, Compensation Executive, Sports Event Manager, Fitness Trainer, Tour Agent, Travel Marketing Tour Agency Consultant, Journalist, Advertising Manager, Public Affairs Manager, Public Relations Manager.
Information & Communication Technology
The increasing use of technology in all aspects of day to day activities makes confident, creative, and productive use of ICT as an essential skill for life. The faculty covers courses ranging from Computer Science in Mobile Computing, Games Technology, Information Technology, Business Information Technology, Software Engineering with Multimedia, Electronic Commerce, Information and Communication Technology, Technopreneurship, and Business Intelligence System.
Hi-Income Technology Careers
Lead Programmer, Software Architect, Software Engineer, Mobile Solutions Specialist, Mobile Application Developer, M-commerce Consultant, Visual User Interface Designer, Games Programmer, Graphics and Visualizer, AI Programmer, Console Programmer, Virtual Reality Specialist, Lead Programmer, Software Product Planner, Systems Engineer, System Analyst, IT Specialist, Database Analyst, MIS Manager, E-business Consultant, IT Business Analyst, Information Systems Analyst, Database Administrator, Software Project Manager, Software Engineer with Multimedia, Web Designer, Animator, Software Tester, Software Engineer, Web Content Developer, Software Project Manager, Database Designer, E-marketer, Web Policy Maker, Ecommerce, Internet Research Analyst, Cyber Law Consultant, Procurement Manager, Network Designer, Telecommunication Engineer, Client/server Specialist, Technopreneur, Information Security Analyst, Technology Evangelist, Business Analyst, Data Warehouse Designer, Information System Designer.
Communication, Media & Broadcasting
Graduates from FCMB are creative, intelligent, technologically-savvy, highly motivated and are most sought after in lucrative mass media professions. Here, relevant training and up-to-date industry exposures help to boost successful careers in hundreds of desirable jobs in the communications field. This is the place for those aspiring be communicators of the 21st century that will transform nations and societies.
HI-Income Communication Careers
Film Producer/Director, Journalist, Public Relations Executive, Account, Executive, Copywriter, Film Editor, Art Director, Scriptwriter, Advertising Manager, News Editor, International Correspondent, TV Producer, Broadcast Journalist, Digital Camera Operator, Talent Vault Manager, Market Researcher, Brand Specialist, Media Director, Resource Manager, Account Directors, Media Buyer, Project Manager, Columnist, Professional Blogger, News Reporter, News Anchor, Screenwriter, Studio Director, Communications Consultant, Digital Media Specialist, Concept Visualizer, Director of Photography, Content Manager, Event Director, Event Planner, Radio Broadcaster, Sales & Marketing, Media Planner and more
When innovation is stimulated by design it transcends technology and utility thus stimulating the thinking of a person who finds satisfaction in developing new ideas. The Faculty of Design and Innovation takes a unique look at the intersection between design and innovation by exploring courses that will see future designers contribute to the development of products and services.
HI-income Design Careers
Art Director, Design Manager, Graphic Designer, Set Designer, Illustrator, Photographer, Desktop Publishing Specialist, Image Touch-Up Designer, Advertising Manager, Packaging Designer, Event Production Manager, Communications Designer, Stationery Designer, Exhibition Designer, Multimedia Designer, Web Page Designer, Toy Designer, CAD Specialist, Researcher, R&D Manager, Automotive Designer, Set Designer, Jewelry Designer, Environmental Designer, Signage Designer, Photojournalist, Art Director, Travel Photographer, Fashion Photographer, Advertising Photographer, Editorial Photographer, Media & Publication House Photographer, Portrait Photographer, Wildlife Photographer, Stock Photographer, Commercial Photographer.
Fashion & Lifestyle Creativity
A career in the fashion industry can be fun, exciting and adventurous as it caters to so many creative opportunities. This is an industry that resets itself every season, and requires an agile adaptive curriculum. Be guided by innovators in the field, who have negotiated huge brand footprints, as you obtain global prospects and chart your journey and realize your creative ambitions.
High Income Fashion and Hair Design Careers
Fashion Designer, Fashion Stylist, Fashion PR, Fashion Communications, Fashion and Retail Manager, Fashion Journalism, Fashion Photography, Fashion Promotion, Fashion Buyer, Fashion Forecasting, Fashion Entrepreneur, Fashion Consultant, Brand Management. Trend Forecasting, Textiles Designer, Accessories Designer, Fashion Franchisor, Fashion Distributor, Tailor, Seamstress, Visual Merchandising, Production Manager, Business Development, Hair Designer, Hair Entrepreneur, Hair Stylist, Salon Owner, Personal Stylist, Trend Forecasting, Business Development, Make Up Artist, Beauty Consultant, Image Stylist, Visual Artist.
Multimedia creativity design is an ever changing integration of theoretical and technological mix within the creative industry expansion. As the creative industry is Booming globally, demands for talents in content creation are huge and rewarding. With the most in-demand skills as games artists and designers, motion graphics and visual effects experts, editing and digital imaging talents, modeling and animating skills, video compositing flair and many other important skills, our future-driven graduates are able to respond and adapt readily to emerging trends and technology of the future. They will be the creative, innovative and effective thinkers and directors within the Digital Content Creation and Creative Industries.
Faculty of Multimedia Creativity
With a wide array of relevant programs offered and industry experienced mentors, this vibrant and dynamic faculty provides students with prospects to develop and hone relevant industry skills and knowledge within the creative environment of the university. An important feature is a practical problem-solving in multi-disciplinary teams using current and emerging technologies. The program's discipline simulates the practice in the multimedia industry and allows students to develop more specialized skills in their chosen areas of interest and professional development.
Hi-Income Multimedia Industry Careers
Games Art Developer, Games Artist, 3D Modelers, 3D Animators, Texture Artists, Games Modelers, Web Designers, Video Editors, Multimedia Designers, 2D Artists, 3D Animators, Interactive Web Specialists, 3D Texture Artists, 3D Animators, 3D Modelers, Texture Artists, Character Animators, Digital Matte Artists, Animation Supervisors, Games Designers, Level Designers, Project Managers, Games Testers, Production Managers, Motion Graphics Designer, Visual Effects Artist, Compositor for film and TV, Visual Effects Director, Video or Film Editor.
The international music industry encompasses an evolving field of technology and cultural experience unique to the 21st century and beyond. Development by musicians and engineers alike gave rise to countless genres and career opportunities for generations of music lovers to get involved with both on stage and behind the scenes. Global trends such as music streaming and mobile devices would fare well to those equipped with extensive knowledge, skills, and vision to shape the future.
Sound & Music Design Academy
The merging of audio engineering skills and musical creativity is nurtured in this dynamic faculty, with a range of programs to suit different qualifications. Graduates are able to pursue any chosen areas of interest in both specialized and overlapping fields of sound and music. The vibrant atmosphere is enriched with an award-winning choir group, music events, and industry exposure. Students receive hands-on training on current and emerging technologies relevant to a broad range of sonic applications from sound design to studio acoustics, complimented by an array of musical skills such as arrangement and vocal performance.
Hi-Income Career Outcomes
Recording Engineer, Mixing Engineer, Mastering Engineer, Live Sound Engineer, Music Producer, Music Composer, Jingles Composer, Vocal Trainer, Music Editor, Audio Post-production Engineer, Foley Artist, Secessionist, Acoustics Engineer, Sound Designer, Surround Engineer, Artist & Repertoire, Artist Management, Music Therapist, Music Director, Event Management, Music Technologist.
A postgraduate degree expands knowledge in various subjects, improves career progression, and enables lifestyle changes by raising your income. At Limkokwing a year to complete your Masters can make such a huge difference to your career prospects as the program are flexible packages that allows one to decide the pace at which they wish to study.
Hi-Income Career Outcomes
Recording Engineer, Mixing Engineer, Mastering Engineer, Live Sound Engineer, Music Producer, Music Composer, Jingles Composer, Vocal Trainer, Music Editor, Audio Post-production Engineer, Foley Artist, Secessionist, Acoustics Engineer, Sound Designer, Surround Engineer, Artist & Repertoire, Artist Management, Music Therapist, Music Director, Event Management, Music Technologist.