| | |
| --- | --- |
| Capital: | Canberra |
| Largest City: | Sydney |
| Major Cities: | Melbourne |
| National Language: | English |
| Ethnic Group: | |
| Religion: | Various |
| Area (KM): | 7,692,024 |
| Population (Million): | 25m |
| Density (Per KM): | 3.3 |
| GDP (Billion Doller): | 1.4 trillion |
| Currency: | Australian Dollar |
| Time Zone (Like UTC +6:00): | 8 |
Australia is the largest country in the Australian continent. The country is very well developed having a wide culture and natural beauty. The neighboring country of Australia is New Zealand. Australia is the sixth-largest country in the world.
Canberra is the capital of Australia. The country has some other enormous cities like Sydney, Melbourne, and Perth. The cities are very beautiful to see and travel. That's why study in Australia from Bangladesh after hsc or A level is seen to happen most within our country.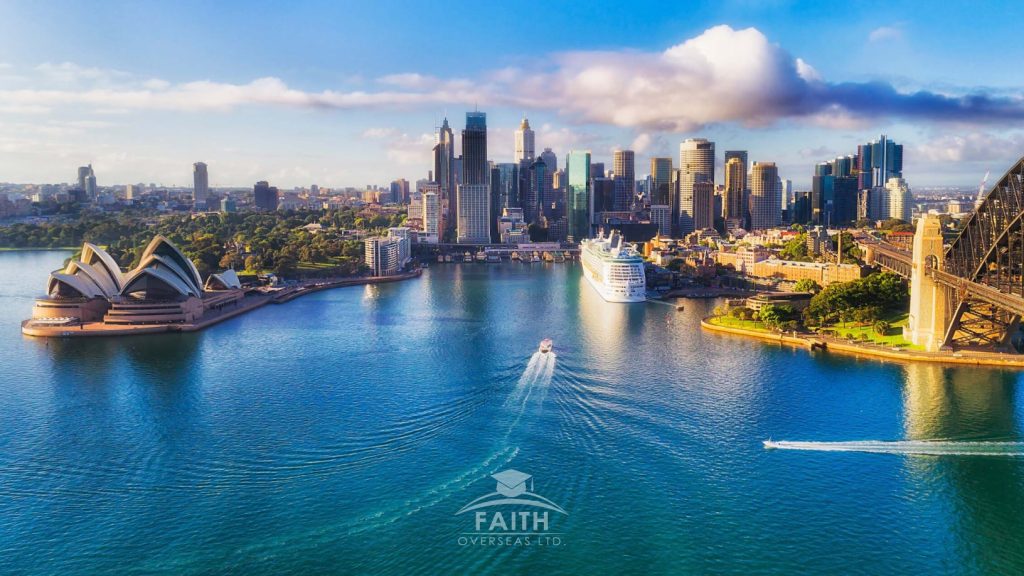 Education System In Australia
The Australian education system is divided into several sections. Primary education, secondary education, tertiary education, and many other sections. Primary education starts at the very beginning stage of education in Australia.
After that, the secondary education starts and then comes the other sections. International students can also apply to study in Australia from Bangladesh after hsc or a level. If they get selected, they will have a wonderful experience to study in Australia. Every Year thousands of Bangladeshi students apply to study in Australia from Bangladesh with scholarship. If you want to study in Australia from Bangladesh after hsc or after your A level exam contact with us. Our dedicated experts are always here for you 24 X 7.
Study in Australia from Bangladesh with scholarship is one of the good choices for the students. Australia has become one of the most developed countries in the world. Their education quality is very high. Colleges in Australia provides good quality education for international students.
The students can apply for higher studies on the basis of their academic results. Besides they can get the PR opportunity. So they can manage their livelihood by earning money.
Scholarships In Australia
The Australian government provides scholarships for international students. Students can apply for the scholarships and after getting selected they can study in Australia. Scholarships in Australia are designed for students who have excellent merit.
Students can apply with scholarships for the undergraduate program, master's program and they can also apply for Ph.D. programs. Bangladeshi students should take the opportunity to get the scholarship and study in a marvelous environment of Australia.
 Bachelor: A level /HSC /diploma completed with 60% mark
IELTS 6.0 not less than 5.5
 Master's: 4years Bachelor completed with CGPA:  2.7
IELTS 6.5 not less than 6.0.
Why Australia is good for Bangladeshi Students
Australia is a leading place for Bangladeshi students to study. A variety of work opportunities, strong Bangladeshi community make it the best place for an international student to stay and study in Australia. After HSC or A level admission requirements to Bachelor or After Bachelor to Masters admission requirements to many institutions in Australia is much easier than USA. Student can apply apply without IELTS through Pathway programs to secure their admission before visa applications. Besides student can also apply many online programs apart from on campus admission so that they can get international accredited education from their home country with minimal cost. Every year many Bangladeshi student are applying also to study in Australia with Scholarship. Click to Contact