Yorkville University was established in 2003 in Fredericton, New Brunswick. The University is private and non-denominational, delivering practitioner-oriented degree programs that bridge the gap between theory and practice, leading to rewarding professional careers.
In March 2004, the Minister of Post-Secondary Education, Training and Labor granted designation status, approving Yorkville University as a degree granting institution authorized to offer the Master of Arts degree in Counselling Psychology (MACP). In October 2011, the University was granted the authority to offer a Master of Education in Adult Education (M.Ed.). and in 2012, the authority to offer a Bachelor of Business Administration (BBA) program. In 2015, the university received consent to offer a Master of Education in Educational Leadership which it recently launched.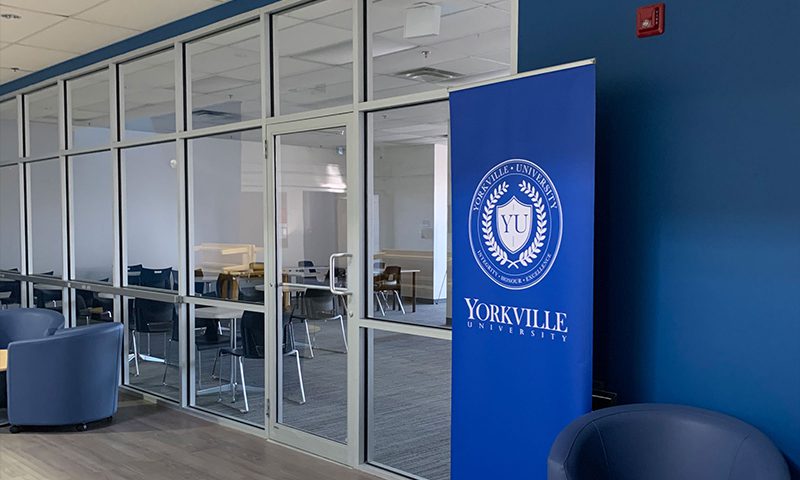 RCC Institute of Technology became an Ontario division of Yorkville University in 2007, and in 2009, RCCIT acquired the Academy of Design and the Toronto Film School. Today, RCCIT delivers professional degree and diploma programs in business, technology and design, largely delivered on-campus but with some online offerings.
In 2015, Yorkville University was granted authority in British Columbia to offer a Bachelor of Business Administration, with specializations in Accounting, Supply Chain Management, Project Management and Energy Management.
Traditional Academic Values, New Technology
Yorkville University is dedicated to academic excellence through the delivery of rigorous academic programs delivered using highly effective, engaging teaching methods.
Yorkville University faculty members are recognized professionals who hold advanced degrees in their fields of expertise. The entire curriculum at Yorkville University is carefully designed to optimize the learning experience by facilitating a high level of faculty-student and student-student communication. Yorkville University's faculty and staff are uniquely dedicated to facilitating their students' success.
Yorkville University is proud to welcome career-driven students from around the world to our campuses in the Greater Toronto Area (GTA), Ontario and Vancouver, British Columbia.
We offer students a welcoming and supportive environment that extends beyond the classrooms, and a goal-focused education to get them started on their successful careers in Canada or at home. Both our campuses feature:
PROGRAMS of Yorkville University