Established in 1908 in the city of Portsmouth, Hampshire, England; Portsmouth University is one of the top universities in UK. Known as Portsmouth Polytechnic till 1992 Portsmouth University is among the top 100 university in the world.
Portsmouth University offers a wide range of courses from Pharmacy to Mechanical Engineering to Criminology. As a pioneering in research-based study more than 90% of all research conducted by university rated as world leading. Situated in Portsmouth which is considered the cheapest city to live in UK Portsmouth University is a prime choice for international students for their higher study.
Portsmouth is located on England's south coast, which offers some of the best weather in the UK. In the vibrant and cosmopolitan city, the historic sits alongside the modern. Portsmouth is small enough to feel at home in and students can get around quickly and easily. Most University buildings are right in the heart of the city and everything a students need – entertainment, shopping, the seafront – is within easy reach.
Why Portsmouth University?
Students are welcome
Portsmouth University welcome more than 4,000 international and EU students from almost 150 different countries. So wherever students are coming from, university can help them get to where they want to be.
No. 21 university in the UK
Portsmouth University is 21st best university in the UK, according to the Guardian University Guide 2020.
Teaching excellence
Portsmouth University holds the Gold standard from the UK government's Teaching Excellence Framework. This government scheme recognizes excellent teaching in UK universities. Gold is the highest accolade and places us among the UK's top universities for teaching.
Superb facilities
Portsmouth University is always improving and updating. Latest investments include a £9m media and performing arts space, a £12m center to inspire a new generation of engineers, specialist teaching facilities in the new City Learning Centre, and a £53m sports facility as part of our £400m plan for the future of the campus.
Guaranteed rooms in halls
Portsmouth University is able to guarantee a room in halls to all new, full-time students who make Portsmouth University their firm, first choice and meet accommodation deadlines.
Loved by students
Portsmouth University students gave a satisfaction rate of 88 per cent in the National Student Survey 2018, which is five per cent above the national average. Many courses achieved 100 per cent satisfaction. Portsmouth University is now ranked 19th out of 150 universities nationally for overall student satisfaction.
Excellent employment outcomes
Portsmouth University is number one in the UK for boosting graduate salaries (The Economist 2017) and 97.5 per cent of the graduates are in work or further study six months after leaving the university(Destinations of Leavers from Higher Education Survey, 2017).
Great place to live
Portsmouth is an exciting island city with lots of culture and has great entertainment choices. It is also one of the top five most affordable cities in the UK for students (NatWest Student Living Index, 2018).
Global standing
The Times Higher Education 2018 Young University Rankings reveal the best universities under 50 years old, assessing them across teaching, research, international outlook, and their work with industry. Portsmouth University is one of the world's top 150 young universities.
10 Reason to Love Portsmouth
PROGRAMS of Portsmouth University
Accounting, Economics and Finance
Architecture and Surveying
Business, Management and Marketing
Childhood, Youth Studies and Education
Computer Games and Animation
Criminology and Forensic Studies
Drama, Music and Performing Arts
English and Creative Writing
Fashion, Photography, Graphic Arts and Design
Geography and Environmental Sciences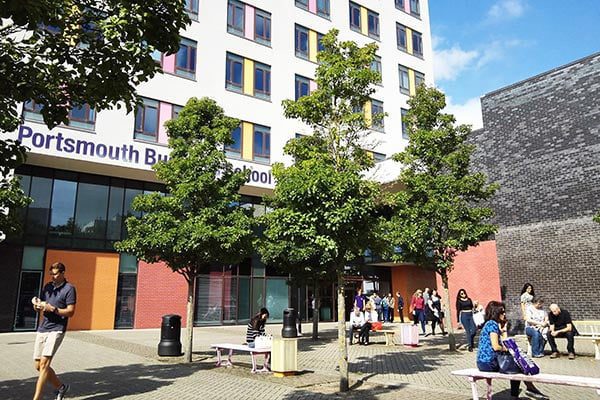 Health Care and Social Care
Also Available Courses in