Home to NATO and the European Union, Belgium has been considered to be the heart of Europe for several decades. Like many other countries in Europe, Belgium is striking in its ability to hold and preserve its history by maintaining magnificent architecture and conserving its languages. 
The Kingdom of Belgium is divided into 3 different language-speaking communities; Dutch, French, and German, the latter being a minority amongst the three. The Flemish (Dutch) community is situated in Flanders, while the French community lives in Wallonia and the German-speaking minority lives in the East Cantons.
Brussels, the largest city of Belgium which also happens to be the capital, is where these communities intertwine and work together in harmony. Besides the capital, the Flemish (Dutch-speaking) and French-speaking communities commonly do not integrate with social or professional settings.
It is advised not to speak French in Flanders and vice versa, as it is considered quite offensive to the native people. Foreigners are encouraged to learn the language of the city they decide to move to for a better transition. However, English is understood by some if not all of the population and can be used if one is not familiar with the native tongues.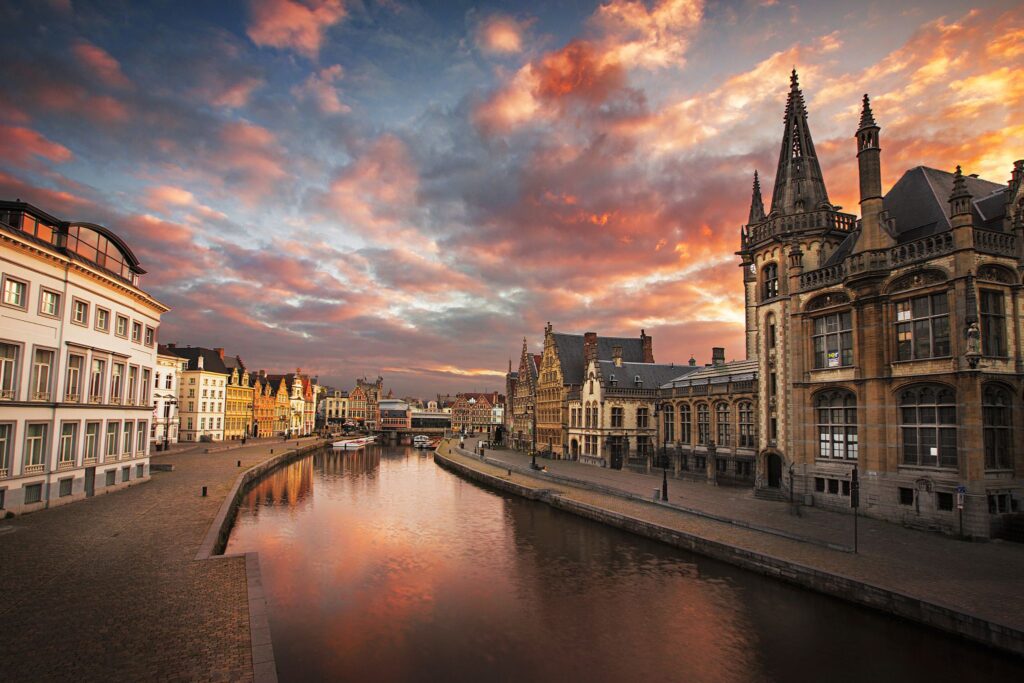 Although Belgium has a high standard of living, it is more reasonable to stay there compared to its neighboring countries. Apartments are available for both renting and buying, although most foreigners prefer to rent out flats. Amongst the cities, Brussels has the highest cost of living, with Antwerp and Bruges on its tail.
Everyone residing in Belgium is required to have health insurance that is covered by public or private insurance agencies. Moreover, people can choose their doctors and medical services as opposed to having to refer to a physician first. If foreigners want to receive medical attention from a health professional that speaks their native language, they can contact their respective embassies or the US embassy for English-speaking doctors.
Food is an essential part of the Belgian culture and plays a significant role in social settings. Belgium is very well known globally for making luxury chocolates, artisan beer, and world-famous waffles. Despite their name, french fries are said to have originated from Belgium. 
The education system in Belgium
The education system in Belgium makes it mandatory for children between the ages of 6-18 to attend school. The language of instruction in public schools in Belgium depends primarily on the location; schools in Flanders offer public education in the Belgian dialect of Dutch (commonly known as Flemish), whereas Wallon schools teach in French. Minor German communities attend schools that cater to their linguistic needs. However, international schools are also available for anyone that is interested but they are comparatively more expensive.
On completing high school, students have the option to choose from university colleges, art colleges, and universities. Bachelors, Masters, and Ph.D. degrees are only available at universities, whereas university colleges and art colleges just offer diplomas, associates, and technical degrees. There may be some exceptions in certain institutions where they offer bachelor's degrees.
Most degrees at the undergraduate level in Belgium are taught in the native languages of the location of the universities. There are widely available language courses and classes that are offered to foreigners and international students who wish to study there.  
Moreover, there are numerous master's and Ph.D. programs offered that have English as the primary language of instruction. International students are most interested in applying to courses offered in English.
EU citizens have to pay a registration fee when getting into Belgian universities and are mostly covered by the governmental bodies for the rest of the costs of their academic journey. Non-EU citizens are subjected to pay additional registration fees and do not receive any type of financial grant or assistance from the Belgian government.
Although scholarships for international students are available at post-secondary educational institutions, they are very competitive to acquire. Government-provided scholarships are available at every level; although applications need to be filed in advance as the competition for these scholarships is excessively high.